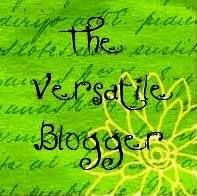 I've been awarded the Versatile Blogger award by my mom @
Hermit the Blog
.
Wow! Thank you very much, Mom! How very sweet of you!
Here are the guidelines for this award, although I'm going to change them up a bit.
1. Thank and link to the person who awarded you.
2. Share 7 random facts about yourself.
Without further ado, here are 7 random facts about myself:
1. one time when i was really little i tried to pee like a boy lol
2. i have a little baby wart on my finger
3i have a mole on my butt lol tmi right
4. one time at school when high school musical first came out me and my old best friend Baiely song the song from that movie and this one boy was like trying to break dance and then people stared to crowd around us and sing and dance along. Now that i think about the whole thing it is kinda funny but at the time we felt awesome.
5. i cracked my wrist when i jumped of my bed because there was this little and he would just jump of my bed and land on his butt and it dint even hurt him and so i tried and i like slamed my wrist on the floor and it cracked
6. i am all ways trying to find ways to pick at my bro lol but sometimes i don't
7. one time there was this little boy the same little boy that was jumping off the bed well he would just grab peoples drinks and just drink them so i told my friend hunter i bet you any min he will come out with my drink and sure enough he walked by well his mom was behind us and and i said see i told you and he laughed and his mom was like what did you say and i said i was going to tell the little boy a joke and she said whatever and got all mad .